7/13-14 The Carlebach Shul Long Beach Shabbaton
From

7:00 pm

to 9:06 pm
---
Register
July 13, 2018 7:00 pm
July 13, 2018 9:06 pm
America/New_York
7/13-14 The Carlebach Shul Long Beach Shabbaton
Shabbos by the Sea Join the Carlebach Shul, in partnership with the BACH and Young Israel of Long Beach, for an amazing Shabbaton on July 13-14, featuring Rabbi Naftali Citron, Yehuda Green, and the Chevra. HIGHLIGHTS Kabbalat Shabbat overlooking the ocean, with Yehuda Green Elegant Shabbat dinner on the Boardwalk Inspirational Torah from Rabbi Naftali Citron, along with Rabbi Chaim Wakslak and Rabbi Moshe Greene Shacharit will be at Young Israel of Long Beach: 120 Long Beach Blvd, Long Beach, NY 11561 Catered lunch at the Long Beach Hotel A chance to experience Shabbos in a relaxed and natural setting with the warm hospitality of the Long Beach Jewish community COST Early bird prices—reserve by June 28th Dinner: $50 for adult, $20 for child under 12 Lunch: $40 for adult, $23 for child under 12 Regular prices—reservations close July 8th  Dinner: $60 for adult, $25 for child under 12 Lunch: $45 for adult, $25 for child under 12 Click Here to Reserve Sponsored by The Carlebach Shul, The Bach Shul, The Young Israel of Long Beach, and The United Kehilla of Long Beach. By reservation only. We cannot accommodate anyone without a reservation.  We can not accommodate any refund requests. HOSPITALITY The Shul is unable to provide lodging. We have arranged for special pricing with the Long Beach Hotel. Call soon and mention "Carlebach Shul" or "CBS" to receive a discounted price. http://www.longbeachhotelny.com/ Additional lodging may be available at the Allegria Hotel:  http://www.allegriahotelny.com/ Hotel space is limited, so please reserve ASAP. For any questions, email melissa@thecarlebachshul.org
info@thecarlebachshul.org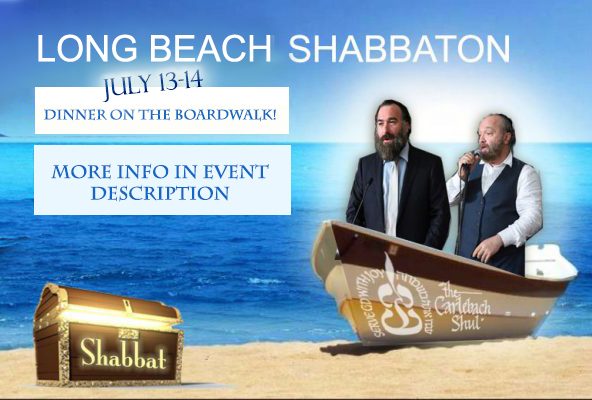 Shabbos by the Sea
Join the Carlebach Shul, in partnership with the BACH and Young Israel of Long Beach, for an amazing Shabbaton on July 13-14, featuring Rabbi Naftali Citron, Yehuda Green, and the Chevra.
HIGHLIGHTS
Kabbalat Shabbat overlooking the ocean, with Yehuda Green
Elegant Shabbat dinner on the Boardwalk
Inspirational Torah from Rabbi Naftali Citron, along with Rabbi Chaim Wakslak and Rabbi Moshe Greene
Shacharit will be at Young Israel of Long Beach: 120 Long Beach Blvd, Long Beach, NY 11561
Catered lunch at the Long Beach Hotel
A chance to experience Shabbos in a relaxed and natural setting with the warm hospitality of the Long Beach Jewish community
COST
Early bird prices—reserve by June 28th
Dinner: $50 for adult, $20 for child under 12
Lunch: $40 for adult, $23 for child under 12
Regular prices—reservations close July 8th 
Dinner: $60 for adult, $25 for child under 12
Lunch: $45 for adult, $25 for child under 12
Sponsored by The Carlebach Shul, The Bach Shul, The Young Israel of Long Beach, and The United Kehilla of Long Beach.
By reservation only. We cannot accommodate anyone without a reservation. 
We can not accommodate any refund requests.
HOSPITALITY
The Shul is unable to provide lodging. We have arranged for special pricing with the Long Beach Hotel. Call soon and mention "Carlebach Shul" or "CBS" to receive a discounted price. http://www.longbeachhotelny.com/
Additional lodging may be available at the Allegria Hotel:  http://www.allegriahotelny.com/
Hotel space is limited, so please reserve ASAP.
For any questions, email melissa@thecarlebachshul.org
---