Coronavirus Update – Shabbat Services Cancelled
From

10:43 pm

to 11:43 pm
---
June 5, 2020 10:43 pm
June 5, 2020 11:43 pm
America/New_York
Coronavirus Update – Shabbat Services Cancelled
Dear Carlebach Shul Members and Friends, Upon consultation with Shul leadership and other communal leaders, we have unfortunately decided to close the Shul for Shabbat due to concerns regarding the coronavirus. We had already decided to suspend our programs, dinners, and kiddushim, and now we feel it is necessary to suspend services as well. These decisions were taken because social distancing is necessary at this time to prevent the spread of the virus. We will continue to email updates and let you know when we expect to reopen for at least basic Shabbat services. The truth is, if there is ever a time to daven that time is now. So this Shabbat, let's make sure to daven at the same time in our own respective homes. Friday night candle lighting is at 6:43 PM, Mincha is at 6:58, and Kabbalat Shabbat is at 7:10. Shabbat morning Shacharit is at 9:30 AM. Study Parshat Ki Tisa and the Maftir for Parshat Parah (at the beginning of Parshat Chukat – Numbers 19: 1-22). May we at this time strengthen our resolve to ask that our community and our city, state, country, and Am Yisroel in Artzeinu Hakdosha and the rest of the world be healthy and safe. If you need Kaddish to be said, please reach out to the Rabbi ([email protected]) and he will try to find someone in another community to say it for you. As always, we encourage you to practice proper hygiene, check the NYC Health website, and speak to your own doctors for advice on how to stay healthy during this time. Wash your hands carefully with soap, use your elbow to cover coughs and sneezes, and reduce social interactions. If you are older or medically at risk, stay home. Although we are taking the coronavirus very seriously, let's not forget that fear isn't what we need, but rather thought-out precaution and safety. May we plan for the worst and hope for the best, and be positive that we will come out of this stronger. Sincerely, Rabbi Naftali Citron President Shy Yellin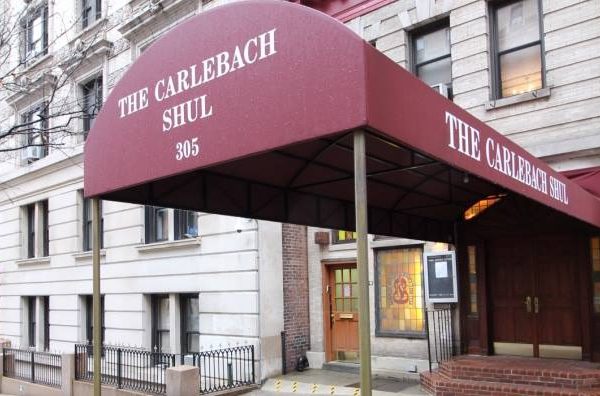 Dear Carlebach Shul Members and Friends,
Upon consultation with Shul leadership and other communal leaders, we have unfortunately decided to close the Shul for Shabbat due to concerns regarding the coronavirus. We had already decided to suspend our programs, dinners, and kiddushim, and now we feel it is necessary to suspend services as well. These decisions were taken because social distancing is necessary at this time to prevent the spread of the virus. We will continue to email updates and let you know when we expect to reopen for at least basic Shabbat services.
The truth is, if there is ever a time to daven that time is now. So this Shabbat, let's make sure to daven at the same time in our own respective homes. Friday night candle lighting is at 6:43 PM, Mincha is at 6:58, and Kabbalat Shabbat is at 7:10. Shabbat morning Shacharit is at 9:30 AM. Study Parshat Ki Tisa and the Maftir for Parshat Parah (at the beginning of Parshat Chukat – Numbers 19: 1-22).
May we at this time strengthen our resolve to ask that our community and our city, state, country, and Am Yisroel in Artzeinu Hakdosha and the rest of the world be healthy and safe.
If you need Kaddish to be said, please reach out to the Rabbi ([email protected]) and he will try to find someone in another community to say it for you. As always, we encourage you to practice proper hygiene, check the NYC Health website, and speak to your own doctors for advice on how to stay healthy during this time. Wash your hands carefully with soap, use your elbow to cover coughs and sneezes, and reduce social interactions. If you are older or medically at risk, stay home.
Although we are taking the coronavirus very seriously, let's not forget that fear isn't what we need, but rather thought-out precaution and safety. May we plan for the worst and hope for the best, and be positive that we will come out of this stronger.
Sincerely,
Rabbi Naftali Citron
President Shy Yellin