Top Ten Teachings on the Daf
From

6:17 pm

to 6:17 pm
---
2023-06-10 18:17
2023-06-10 18:17
America/New_York
Top Ten Teachings on the Daf
Talmud does not have to be a mystery. Take this opportunity to join us for a weekly look at a daf of Talmud. While many people mistakenly thing the Talmud is only about Jewish law, it is actually full of stories, metaphors, and mysteries. And yes, law and arguments about how to interpret the law. Studying the Talmud in an integrated way is something that Rabbi Naftali Citron specializes in. His Talmudic specialty is approaching it from its various parts and seeing the whole of it. This approach has deep psychological rewards, and will also appeal to those who are more interested in the spiritual than the practical. Warning: this learning project will challenge you to think rationally about how to analyze and understand a text. It may lead you to greater use of your mental abilities, so be prepared for an overall boost of energy and mental acumen. Those who would like to participate will receive an email every week (except the weeks around the major holidays) with a shiur on Top Ten Teachings of the Daf, along with a transcription of the shiur prepared by Melissa Bart. The idea is to study a daf of Talmud (actually two pages) every week. If possible, you should spend some time on your own studying that daf with the Artscroll or Steinzaltz translation and commentary. Then watch our video or read the transcription. After you've done that, please get in touch if you have any questions. As of now, for those of you who can attend, we will also be be discussing the weekly Top Tens on Shabbat afternoons between Mincha and Maariv. Email [email protected] if you'd like to participate in this program and join us on our journey through Masechet Brachot. Click Here for the Series So Far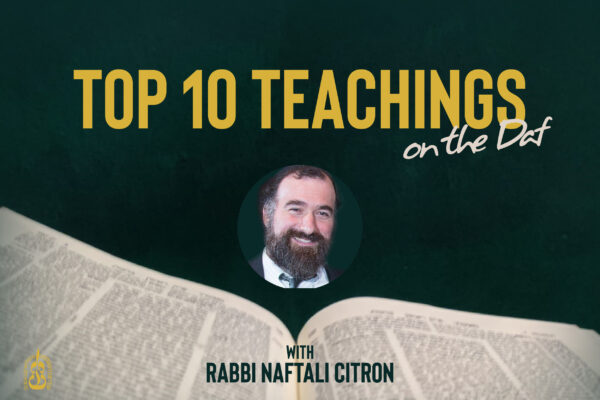 Talmud does not have to be a mystery. Take this opportunity to join us for a weekly look at a daf of Talmud. While many people mistakenly thing the Talmud is only about Jewish law, it is actually full of stories, metaphors, and mysteries. And yes, law and arguments about how to interpret the law. Studying the Talmud in an integrated way is something that Rabbi Naftali Citron specializes in. His Talmudic specialty is approaching it from its various parts and seeing the whole of it. This approach has deep psychological rewards, and will also appeal to those who are more interested in the spiritual than the practical. Warning: this learning project will challenge you to think rationally about how to analyze and understand a text. It may lead you to greater use of your mental abilities, so be prepared for an overall boost of energy and mental acumen.
Those who would like to participate will receive an email every week (except the weeks around the major holidays) with a shiur on Top Ten Teachings of the Daf, along with a transcription of the shiur prepared by Melissa Bart. The idea is to study a daf of Talmud (actually two pages) every week. If possible, you should spend some time on your own studying that daf with the Artscroll or Steinzaltz translation and commentary. Then watch our video or read the transcription. After you've done that, please get in touch if you have any questions.
As of now, for those of you who can attend, we will also be be discussing the weekly Top Tens on Shabbat afternoons between Mincha and Maariv.
Email [email protected] if you'd like to participate in this program and join us on our journey through Masechet Brachot.