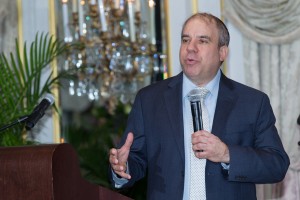 Winter 2016  A Message from the President Shy Yellin
Sweetest Friends:
It is very challenging to write an optimistic message when the Jewish People in Israel are under siege from senseless malicious attackers.  Perhaps we can take solace in the events that occurred during the lifetime of our patriarch Yitzchak, who dug wells to give drink to the world, only to find them filled in by the local Philistines who could not contain their jealousy of all that Yitzchak had accomplished.
We know that ultimately Yitzchak, through perseverance,  was able to put down wells and provide water to all.  As Reb Nachman would say, "never give up!"  It is in such trying times that we turn to the Master of the Universe and proclaim "only You can bring ÌÂÏ˘ (peace) from Your lofty heights".
Fortunately, the Carlebach Shul remains a place of refuge from a world that has lost its compass.  How often do we hear people remarking that when they enter our premises they are taken to a different place where the world looks so beautiful and is so full of amazing promise. I heard Reb Shlomo observe that "we need to show the world a picture of what could be…" That is one of the many goals of the Carlebach Shul, to paint a picture of a beautiful world for all to strive for.
Thank you for all your continued support, it allows us to be all that we can be.
Brother Shy