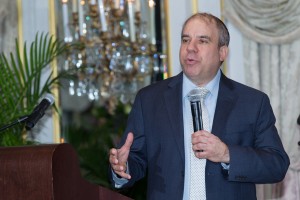 Fall 2018 : A Message from the President Shy Yellin
Sweetest Friends:
Many of our chevra, particularly those under thirty, never had the opportunity to know Reb Shlomo, z"l. I was fortunate to have met "Shlomo" when, as a young boy, my parents took me to one of his concerts in Chicago in the 60's. When I first saw Reb Shlomo it was immediately apparent that this person was quite special, someone whose soul was truly on fire, and whose faith was unshakeable. I can still remember slot gacor him back then, jumping up and down on the stage, tzitzit flying, singing esa einai – I will up my eyes … my help will come from Hashem. Real passion for Judaism – that was something a small child could recognize. As a young man, Reb Shlomo experienced the brokenness of European Jewry having fled with his family to America in 1940. The
loss in the Shoah of so many friends and relatives, the loss of great Rebbes and Torah scholars whom he had the merit of knowing, had a marked effect. Just a few years after the war, in the 1950's, he was confronted by a new foe, assimilation, which appeared to be carrying on, in https://www.ch3performancegolf.com/profile/slot-gacor-gampang-menang/profile a different way, the evil perpetrated just a few years earlier in Europe. Before outreach was in anyone's lexicon, Reb Shlomo took it upon himself to change the world. He embarked on a mission to connect alienated youth to their beautiful heritage and to reveal the depth of their traditions to those who were searching everywhere but their own backyards. He felt the need to demonstrate love for people of all stripes by embracing them in order to show that the human spirit can overcome all estrangements. Reb Shlomo took risks to help others notwithstanding advice from his teachers to adhere to the main road and not to step out too far. He took those risks because he felt he had no other choice. For the thousands and thousands of people he embraced, Reb Shlomo's efforts gave new life to those, who without https://www.hihonor.com/latin/club/topicdetail/topicId-66852/ him, may have disappeared into an amorphous melting pot. To those who knew Reb Shlomo, it is abundantly clear that he was a gift to his generation and to future generations.
May his memory be a blessing.
Brother Shy