Lag Ba'Omer 2021
From

8:00 pm

to 9:00 pm
---
April 29, 2021 8:00 pm
April 29, 2021 9:00 pm
America/New_York
Lag Ba'Omer 2021
Lag Ba'Omer Seder – Live at The Carlebach Shul! With Rabbi Naftali Citron and music by Simcha Adelstein and friends Thursday, April 29th, 8:00 PM – 9:00 PM Celebrating the Mysteries of the Zohar Through Words, Music, and Meditation An evening of learning, stories, and music Lag Ba'Omer is a celebration of the mystical revelations that Rabbi Shimon Bar Yochai taught on the day of his passing. On that day, as described in the section of the Zohar known as the Idra Zuta, Rabbi Shimon Bar Yochai revealed to his students the mysteries of the Divine crowns. Every year, nearly half a million people gather on this day in Meiron to celebrate Rabbi Shimon Bar Yochai. Rabbi Naftali has worked on putting the words of the Idra Zuta to music. Experience the Zohar in a beautiful and stirring way, as Rabbi Naftali leads us through his Lag Ba'Omer Haggadah with musical accompaniment. A limited number of seats are still available for $20 each at the door. Masks required. No food will be served. For those who are not quite ready for in-person events, we will also be streaming the event on Zoom, free of charge. Join Zoom Meeting https://us02web.zoom.us/j/84165140638 Meeting ID: 841 6514 0638 Passcode: 972713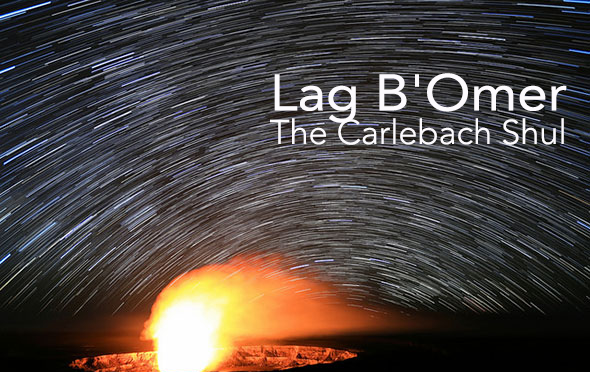 Lag Ba'Omer Seder – Live at The Carlebach Shul!
With Rabbi Naftali Citron and music by Simcha Adelstein and friends
Thursday, April 29th, 8:00 PM – 9:00 PM
Celebrating the Mysteries of the Zohar Through Words, Music, and Meditation
An evening of learning, stories, and music
Lag Ba'Omer is a celebration of the mystical revelations that Rabbi Shimon Bar Yochai taught on the day of his passing. On that day, as described in the section of the Zohar known as the Idra Zuta, Rabbi Shimon Bar Yochai revealed to his students the mysteries of the Divine crowns. Every year, nearly half a million people gather on this day in Meiron to celebrate Rabbi Shimon Bar Yochai. Rabbi Naftali has worked on putting the words of the Idra Zuta to music. Experience the Zohar in a beautiful and stirring way, as Rabbi Naftali leads us through his Lag Ba'Omer Haggadah with musical accompaniment.
A limited number of seats are still available for $20 each at the door. Masks required. No food will be served.
For those who are not quite ready for in-person events, we will also be streaming the event on Zoom, free of charge.
Join Zoom Meeting
https://us02web.zoom.us/j/84165140638
Meeting ID: 841 6514 0638
Passcode: 972713