Reb Shlomo Carlebach Tribute Concert 2018
From

12:45 am

to 4:30 am
---
October 28, 2018 12:45 am
October 28, 2018 4:30 am
America/New_York
Reb Shlomo Carlebach Tribute Concert 2018
Advanced reservations has closed. There are Tickets still available at the door. Saturday Night, October 27th Doors Open 9:00 PM  | Concert Begins 9:30 PM At West Side Institutional Synagogue, 120 West 76th St.  Starring: Yehuda Green and additional performers Eli Schwebel, Shloime Dachs, and Eli Beer Musical Havdala by Chaim Kiss TICKETS:  | $45 at the door | VIP tickets $95 This weekend has been made possible by a contribution from Joy Fishman in memory of her son Jonathan Stampler. Featuring
120 W 76th St, New York, NY 10024, USA
[email protected]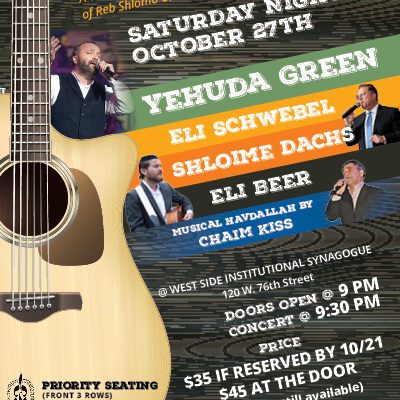 Advanced reservations has closed.
There are Tickets still available at the door.
Saturday Night, October 27th
Doors Open 9:00 PM  | Concert Begins 9:30 PM
At West Side Institutional Synagogue, 120 West 76th St. 
Starring: Yehuda Green
and additional performers Eli Schwebel, Shloime Dachs, and Eli Beer
Musical Havdala by Chaim Kiss
TICKETS:  | $45 at the door | VIP tickets $95
This weekend has been made possible by a contribution from Joy Fishman in memory of her son Jonathan Stampler.
Featuring